SINGLE POINT DIAMOND DRESSER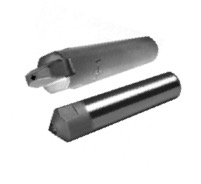 Dressors with single diamonds are used for
Dressing and profiling of grinding wheels in vitrified bond.
Quality 363 - with 3 ground points
Quality 453 - with 3 natural tips
Bärhausen always produces with centered set diamonds in a sintered head. We supply all shank shapes.

---
MULTI-POINT DRESSER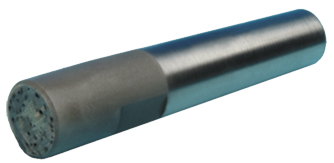 BD Series: Dresser with sintered diamond head
used for grinding wheel diameter:
BD 110 250 x 20 to 300 x 40 mm
BD 120 400 x 32 to 500 x 40 mm
BD 130 600 x 80 to 750 x 63 mm
BD 140 900 x 63 to 1250 x 80 mm
Position of the diamond head:
01 = straight
02 = 15° angle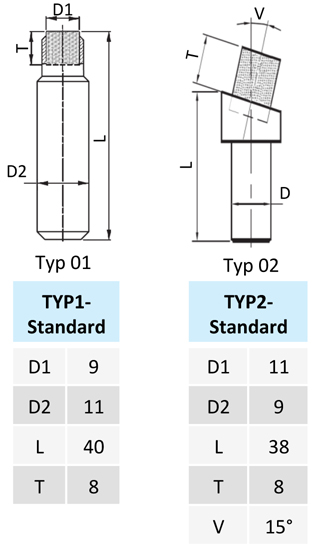 Application for grinding wheel grain:
A = grit 16 – 36
C = grit 46 – 60
E = grit 80 – 180
F = 220 grit and finer
Bond:
B1 = very hard, for SIC grinding wheels
B6 = Standard, for EK+NK wheels
Infeed per dressing pass:
fine grinding = approx. 0.01 mm
rough grinding = approx. 0.02 mm
Order example:
BD 110 – 01 – E – B6, shank 10 x 40 mm
---
DRESSING WHEEL - R1800
Main field of application: cylindrical grinding machines with wheel diameter 400 - 800 mm and a wheel width up to 120 mm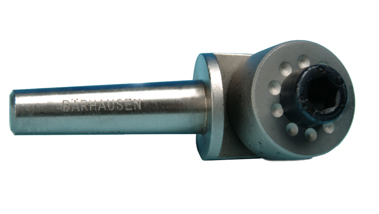 R Series: On the dressing wheel there are (diagonally arranged over a width of 10 mm) 20 rows of 4/5 needle diamonds each. On the two planar sides of the dressing wheel, 10 ball cups are milled into each side to lock it in place, into which a pin on the shaft holder can engage.
The fixing is done with an Socket head screw. If there is a row of needle diamonds (4/5 pieces), loosen the screw and turn the dressing wheel until the pin engages in the next calotte and tighten the screw again. Now the tool is at its maximum performance again.

Set of Diamond:
3 carat = 4 needle diamonds per row
5 carat = 5 needle diamonds per row
---
DRESSING FLIESEN IN CVD, PKD, MKD AND NEEDLE DIAMONDS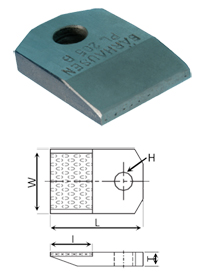 PL Series:
This dresser is mainly suitable for cylindrical dressing of the diameter of grinding wheels and for cylindrical profiles.
application:
This dresser must be used upright and off-axis of the grinding wheel.
infeed:
0,02 – 0,04 mm
---
PROFILING DIAMONDS TYPE DIAFORM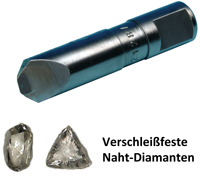 Precise cutting geometry
Hochpräzise High-precision rounded radius
Diamond size (carat): 0,33 / 0,5 / 0,75
---
DIAMOND HAND DRESSER - TYPE 123
for dressing vitrified grinding wheels

---
DIAMOND ROTARY DRESSING TOOLS
Diamond form rolls & diamond profile rolls are rotary dressing tools for dressing conventional vitrified grinding wheels and vitrified bonded CBN wheels.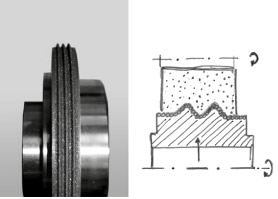 Diamond profile roll
This profile roller aligns the entire profile to the grinding wheel in the infeed process. These profile rollers are used primarily in the work areas of series production, since the low dressing time and long service life result in high and efficient series production.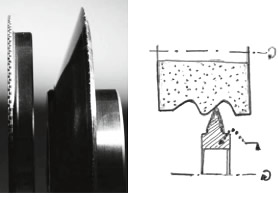 Diamond form roll
The form roll uses a CNC control to dress the grinding wheel with any profile. They can be used in all areas of grinding technology - from small series to medium series production. With this procedure, changes in the grinding wheel shape can also be implemented quickly. All types of shaping rollers are available.
---
DRESSING MACHINE BA-100 AND BAS-500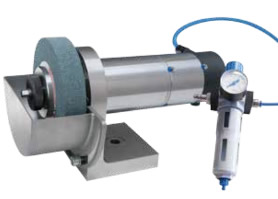 Dressing machine BA-100
This machine is designed for dressing metal, ceramic and resin bonded Diamond and CBN grinding wheels. The pneumatic drive and the automatic centrifugal brake ensure economical working. The BA-100 is used for dressing on cylindrical, surface and tool grinding machines.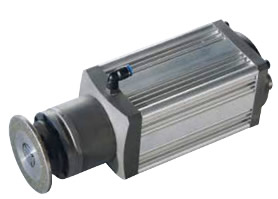 Dressing machine BAS-500
This machine is designed for dressing metal, ceramic and resin bonded diamond and CBN grinding wheels as well as conventional grinding wheels. The electric drive and the optional control offer all possibilities of rotary dressing.
---
VITRIFIED DRESSING WHEELS
Maße: Ø 100 x 25 x 20 mm D/B=Diamant /CBN
DRESSING STICKS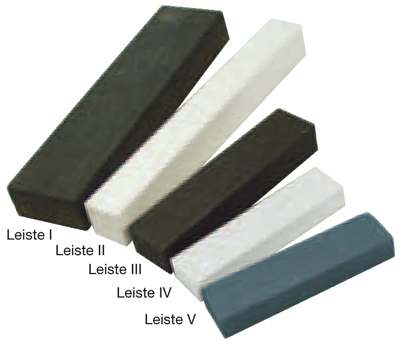 Leiste I 200 x 50 x 25 mm – 1C 120 L6 B
Leiste II 200 x 25 x 25 mm – 22A 320 H8 V16C
Leiste III 125 x 20 x 30 mm – 90C 320 H8 V16L
Leiste IV 100 x 15 x 25 mm – 22A 320 H8 V16L
Leiste V 100 x 15 x 25 mm – 90C 320 H8 V16L